You've probably heard of yellow, red and white gold, but did you know gold also comes in green, purple and black? Read on to find out more about what causes these colours in gold.
---
Ever wondered what jewellers mean by 18 karat gold? And how is it different from 14 karat or 9 karat gold? Get your answers here.
Unlike carat used for measuring diamond and gem weights, the word karat in reference to gold stems from greco-roman times.
---
Somewhere between restocking the gallery and a daydream this happened.
I'm totally in love with the latest addition to the Midnight Snow range. Have a look below for description and photos.
---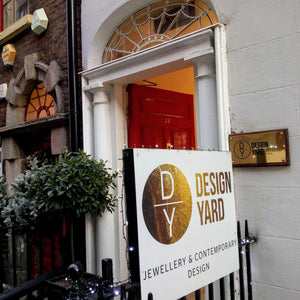 Crazy days at the studio and it's not just 'cuz of the holiday season! 
To keep things interesting I thought I'd move studio – smack dab in the busiest time of year – sure what else would you be doing? 
---
I just love that I learn something with every piece I make and how these new insights fuel so many new ideas (sometimes it's like 4th of July fireworks in my head). My latest handmade clasps are a case in point and I am very excited to show you the new limited edition necklaces!
Have a look below at descriptions of these gorgeous pieces and some pictures of the making process.