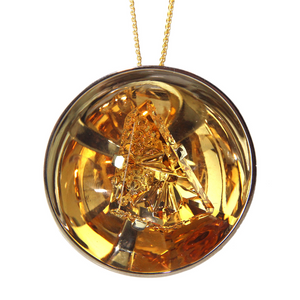 Dandelion II
Did you fall in love with one of our unique pieces, only to find it has sold? 
Why not ask if we can make you something similar? We source our fantasy-cut gems directly from small suppliers and we may be able to get you a different gem to make her something that's not far off.
That's what happened with this Dandelion pendant. Our customer popped in to see it, only to find it had already gone to its new home. Luckily we were able get a different specialty-cut citrine and made a new Dandelion especially for her. 
The stunning Dandelion pendant features a 14 karat white gold "dish" with a mirror finish interior, that reflects the gorgeous fantasy cut Citrine to spectacular effect. As you can see from the images, they are similar but different.
———
Your bespoke original starts with a 15 minute informal chat with Nicole — No charge, No obligation!
Or find out more about the process first in our page "Your Bespoke journey". 
---